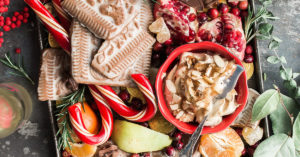 Can you guess which of these foods are naughty or nice?
Although some may seems obvious, some of these foods are sneakily a lot worse than the usual suspects. Which ones can you get right?
Naughty or Nice? – Food and Dental Health!
Dairy
Most dairy is also quite good for you but milk is quite sugary to begin with so there is a 'naughty' option here – can you guess which one?
Yoghurt
Cheese
Plain milk
Flavoured milk (BAD these have very high amounts of sugar and as a general rule we advise avoiding flavoured milk in your diet).
Vegetables and Fruit
Fruits and vegetables are generally quite good for your teeth but there's one big exception – do you know which one it is?
Broccoli
Carrot
Pears
Apples
Citrus Fruit (Oranges, Lemon, Lime) (BAD – these citrus fruits are highly acidic and will increase erosion and wear on your teeth).
Teas
These seem like they're probably bad for your teeth, right? Well, not necessarily. They can be naughty or nice. Green and black teas contain polyphenols which can kill/hold back bacteria. You can also get fluoride from your tea depending on your local water supply…
Black and green tea
Be wary of staining if you drink too much tea/caffeine.
Chips
Seems like the salt and fat would be worse for your body rather than your teeth, but that can be misleading:
Potato Crisps (can get trapped between your teeth)
Corn chips (can get trapped between your teeth)
One of the main causes of tooth decay as not as obvious as sugars. Even though the crisps aren't sweet, they do get broken down into sugars.
Medications
Asthma puffers decrease saliva flow so be careful with these.
Chewing gum
Since it helps create saliva it should be good, but a lot of gum on the market has sugar added to it, causing the same old problems for your teeth:
Sugarfree extra
Sugar gum (BAD – too sugary)
PK (BAD – too sugary)
Hubba bubba (BAD – too sugary)
Food and dental health –

What Next?
Here are a few things to remember if you are going to eat sugary foods :
Eat them with a meal. Your increased saliva will reduce the acidity of the sugar.
Drink more water, preferably with fluoride in it (if you're buying bottled water check the label to see if fluoride is included)
Brush twice daily, after meals.
Floss once daily.
Thanks for reading, and we hope to see you down at Polished Dental for your next checkup! Please feel free to contact us if you have any questions about sugar and its impact on teeth, or want to come up with a plan to try and minimise the sugar you're consuming.